How MAYU Water succeeded in a market no one was exploring
From unknown to #1: Discover how MAYU Water revolutionized the market with a product no one knew they needed.

By

Jonathan Araten

Edited by

Romi Hector

Fact-check by

Tom Amitay
Updated October 27, 2023.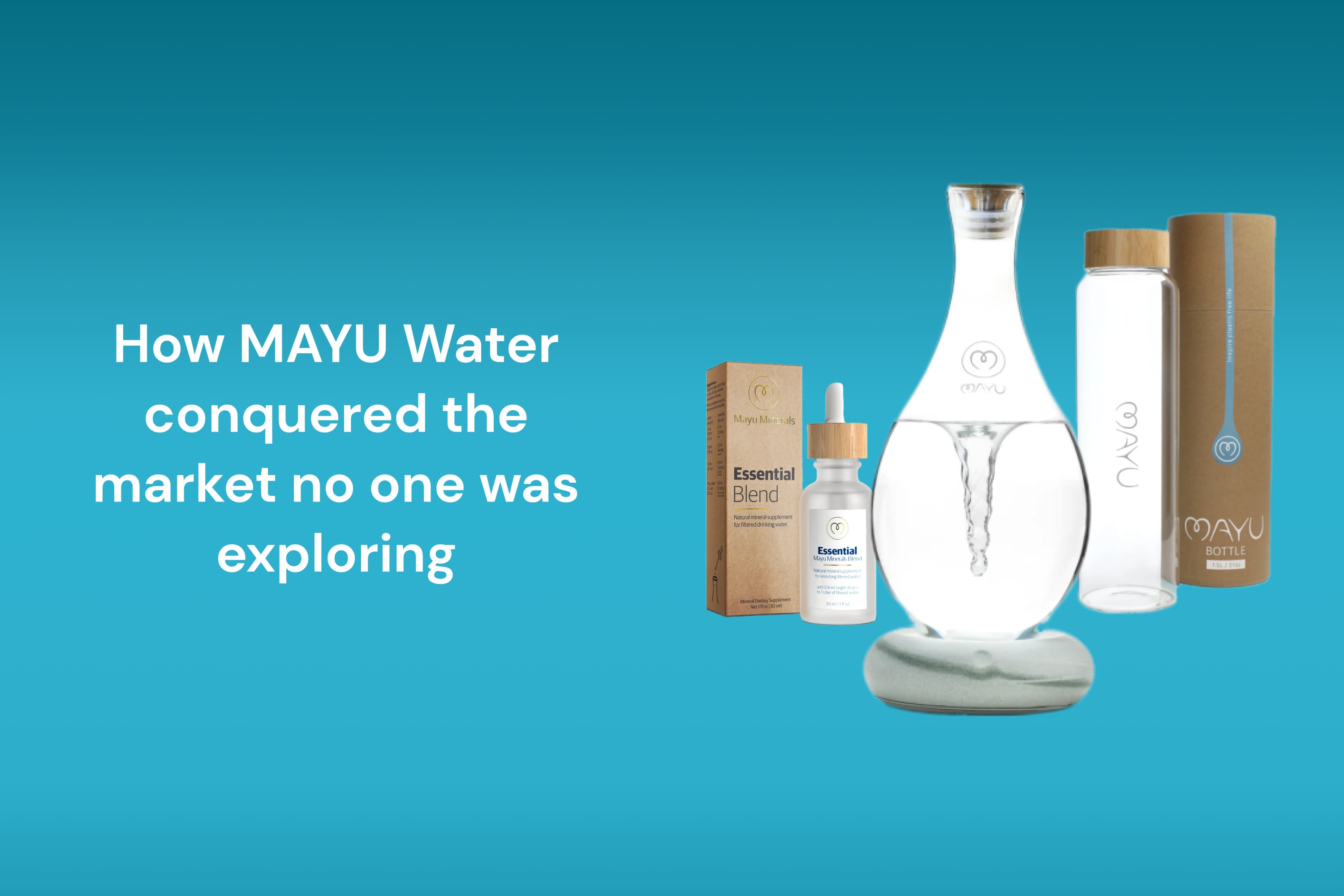 Meet MAYU Water
Making mineral-rich hydration accessible and sustainable
MAYU Water blends the essence of nature with advanced technology, emulating natural processes to oxygenate and purify their customers' water in the comfort of their own homes.
MAYU Water's innovative technology
Using cutting-edge vortex technology, the MAYU Swirl is a pitcher that creates a continuous whirlpool motion to oxygenate water, remove chlorine, and rebalance pH levels. It promotes hydration that enhances physical performance, cognitive function, and general well-being by elevating water quality and taste.
MAYU Water goes beyond hydration
MAYU Water formulated their Essential Blend and Electrolytes drops to support a healthy metabolism, nerves, muscles, and immune system. Their high-grade borosilicate glass bottles—free of harmful compounds like BPA, BPS, and lead—are perfect for zero-waste living. This dedication to wellness and sustainability has appealed to over 35,000 US families.
Opportunity
Tap into a growing global demand
As more people turn to advanced filtering systems like reverse osmosis, MAYU Water addresses a universal need: access to healthy water. With its innovative products and the rising focus on health and wellness, MAYU Water capitalizes on a global market with limited competition.
Challenge
Generate demand for an unfamiliar product
MAYU Water faced the unique challenge of introducing a product the market wasn't actively searching for. Generating organic demand becomes a hurdle when people are unaware of a product's existence, let alone its benefits.
Our biggest challenge was creating a strategy to promote a product that people had never even heard of.

— Elad Erdan, CEO, MAYU Water
They had the solution, but the market wasn't aware of the problem. This made traditional content marketing tactics less effective. They needed to educate their market to bridge the knowledge gap.
Solution
Create a top-to-bottom funnel strategy for maximum reach and conversion
Entail's primary strategy was identifying the pain points MAYU Water's products addressed. Using this understanding, we used our content strategy software to map searches related to these issues. Next, the goal was to cast a wide net, attract a broad audience, and guide them through specific funnels optimized for conversion.


Entail's strategy

made sure we weren't just shouting into the void. It helped us reach people who really wanted to hear about our products.





Our focus then shifted to a top-to-bottom funnel approach. At the top, we engaged a broader audience with content on general topics related to drinking water. As readers moved further down, more tailored content directed them to MAYU Water's unique value proposition, steering them toward conversion. This targeted, multi-tiered content strategy ensured that MAYU Water reached potential customers precisely at their point of interest.


Execution


Entail is increasing MAYU Water's online visibility
In 12 months, Entail produced 156 blog posts for MAYU Water, totaling 85,000 words. This quickly elevated their online presence, with a peak month recording 55,245 organic visits, up from zero at the start of the year.
This consistent content output has also positively impacted user behavior. Currently, MAYU Water sees around 3.5k clicks to its product pages every month. Entail has not only increased MAYU Water's visibility but also efficiently channeled user interest towards its products.
Results
Increased online visibility and tangible revenue growth
Entail's strategic approach for MAYU Water yielded remarkable results:
Increased ROI, from 15% to 210% in just 10 months

A surge in traffic, from 0 to 55k monthly visitors within a year

3.5k monthly clicks to product pages

A 32% month-on-month growth in revenue from organic traffic

A 10% contribution to their overall online revenue
Mayu Water now holds the #1 spot for the search "best water to drink," surpassing more established brands and products in this space.
It's one thing to know you have a great product, but another to get it in front of the right eyes. Entail made that connection for us.